When brand new trade partner
Trevor from the Bump and Run Football Card Blog
sent me a package last month, he put in a nice amount of Tigers and other baseball PC guys for me (as seen on today's TMV post), but where the package really shines and shows the amazing effort he put in is the huge number of Wolverines he included. He noted, "I think I pulled every Wolverine in my collection" and added "I hope this suffices." Uh, yeah, this'll do just fine, Trevor.
Take a look at the goods to find out if you're just as blown away as I was:
This basketball bounty includes Juwan Howard, Glen Rice, Jalen Rose, Nik Stauskas, and Chris Webber. Howard's 2000-01 Topps Chrome Refractor is my easy pick for favorite of the bunch, but those 2004-05 Showcase cards of Rose and Webber look fantastic as well.
And the football frenzy begins with this page, which just gets us through A-F with a total of six players. There's a lot to like, starting with three college uni issues of Avant, Carter, and Funchess. That Biakabutuka Zenith
insert
looks amazing in-person and is my favorite in the scan. I was thrilled to add three cards of former #1 AC, not to mention two more of another former #1 in Funchess. Prestige continues to be a product that features a design I love along with college unis. And the Topps Platinum insert is a fantastic looking Sapphire (a.k.a. blue, I mean, let's call it what it is) Refractor.
This scan features another nice mix of 90s and 2000s/2010s players in Hall, Henne, Henson, Huard, Lewan, Robinson, and Streets. Former QBs
Henne
and Henson duke it out for favorite card status as the former is a 2011 Prestige Prestigious Pros Black insert numbered to a crazy low 04/25 and the latter is the best looking insert from one of Topps' greatest products ever, a Gold Chrome parallel from 2004 Draft Picks and Prospects. A trio of Denards and a great shot of Streets making a catch in a college game are a great way to close out the group.
Even more football! (I did say "bonanza", didn't I?) Streets' 1995 WR teammate Toomer gets in on the action with another college photo, while Gabe Watson represents the only other defensive player in the package (Leon Hall, above) except for a card you'll see in a second. Last up is the most well-represented player in the envelope this time, RB legend Tyrone Wheatley, who recently left Michigan's staff to coach Jacksonville's RBs (hey, help get Denard some reasonable playing time, Ty!). The first two cards, both from '95 Collector's Choice, look similar, but the second is a Player's Club parallel that features a stamp in the upper-right corner. Another rookie year card from '95's Ultra Extra joins those, and then we step up in quality even more with cards from '96 Finest (love that design!) and 2000 Collector's Edge EG.

All in all this is an amazing first trade package and--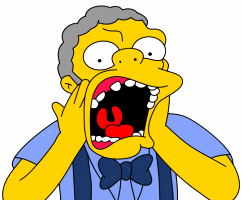 Whaaaaaaaaaaaaaaaaaaat? There's more?!
Wow, three
football hits
too! First we have a 2009 Upper Deck Game Day Gear jersey of Chad Henne. This is one of those cards I always think I already have because I see it for sale quite often, but I actually didn't until Trevor included it here. It's quite an exciting pickup, not just because I love collecting Henne, but also because it's my 99th hit of the former QB!
Speaking of hits of my PC guys, how about another 2009 UD-branded relic, in this case a 2009 Upper Deck Heroes Retail Blue jersey of Super
Mario Manningham
? The former Super Bowl hero is looking mighty fine on this jersey relic, my 64th hit of this here blog's namesake. Heroes was an outstanding product and this has me wanting to search for more of my Wolverines from it.
Last but not least is our last example of a player from the defensive side of the ball; those guys just don't get the love they deserve, do they? In this case it's former DT Will Johnson, who played in Ann Arbor in the late 2000s. He ultimately didn't appear in an NFL game, so I appreciate his appearance in a product like 2009 SAGE HIT, otherwise I wouldn't get to enjoy an appropriately blue gem like this in my collection. They don't make SAGE the way they used to!
Trevor, thanks again for a generous helping of Wolverines! As a fellow college collector I look forward to returning the favor with some BYU alumni as soon as I can accumulate some for you.