How else would I start out a Penn State post?
It's game day for Michigan, and the Wolverines will be joined by ESPN GameDay as they travel to Happy Valley for a 7:30 pm matchup with #2 Penn State. Jim Harbaugh's team could largely turn its season around and erase the effects of a close loss to Michigan State by beating the Nittany Lions for the fourth straight year. This is nothing if not a marquee night matchup and a tough road test for a team that's still struggling to put up points, though the good news is that the defense is even stingier when it comes to the scoreboard.
While an upset would go a long way towards the Wolverines' 2017 goals, in many ways a Penn State loss is great in general, because it's a program that deserves nothing but scorn for the way its fans and former coach Joe Paterno's family continue to blindly support the disgraced leader despite all of the evidence against him. Plus there's
these jackasses that thought it would be funny to compare Michigan's quality to that of the lead-laced water in Flint
. Stay classy, Penn State.
Regardless of what those mouth-breathers think, this game, the 21st in the series (
Michigan leads 13-7
) which only started in 1993, could very well be a good one. The defense could keep the team in it by doing their usual thing while keeping all-world RB Saquon Barkley in check, while the offense needs to pitch in by eliminating turnovers and finishing off drives.
Here's hoping Michigan remembers past successes like
the 1997 game, also against the #2 team on the road, and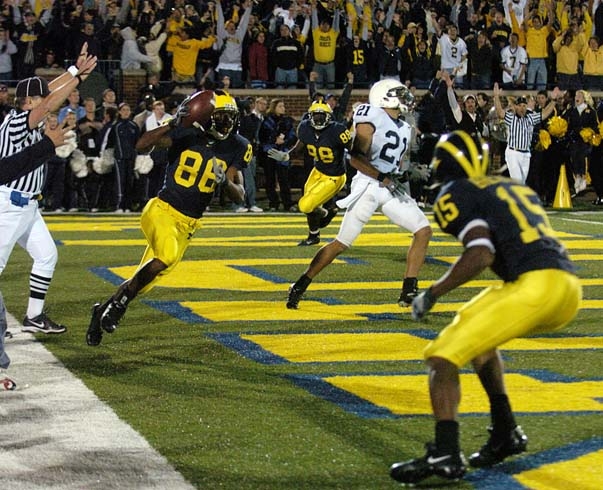 Mario Manningham in 2005,
2006, the year we learned that ALAN BRANCH KILLS QBs, plus
last year's 49-10 thumping for the Wolverines' third win in a row in the series.
Ride your defense and newfound running game to a huge upset.
Let's.
Go.
Blue.