Having shown off some goods over on TMV this evening, let's have a look at even more stuff from
Doug at Sports Cards From the Dollar Store
in the 42nd(!) package I've posted from him on this here blog:
— Tim Hardaway Jr (@T_HardJR) February 6, 2017
#RespectGreatness indeed.
Joining that pair was this beauty:
This here is a :takes deep breath: Glenn Robinson III 2014-15 Panini National Treasures Air Apparent Jersey Autographs Prime patch auto (#05/25). This card of the third Glenn Robinson is a triple threat of a very cool signature, ridiculous patch, and low numbering. GRIII will be in the All-Star slam dunk contest and tweeted the following this morning:
I want to let all my followers know, if you have any ideas💡 for me to do in the Dunk Contest I wanna hear it!! 😳🤔

— Glenn Robinson III (@GRIII) February 7, 2017
Good luck to him! This amazing patch auto is my fourth Robinson hit ant 69th overall in
my basketball collection
.
Football was represented too, and it even had a Super Bowl connection:
Repping
my vintage football collection
is this 1962 Post Cereal CFL of former QB Bob Ptacek. If you see a CFL-related card in my collection you can put good money on it having come from Doug, who digs up gems like this all the time. Very cool! It's been almost four years but
I previously posted about Ptacek after picking up his TK Legacy auto
.
Moving on to a more recent product, this Devin Funchess 2015 Prestige Draft Picks card will go right into
my football inserts PC
. Funch's base card from this set looks pretty nice, but this extra shiny/foil-y insert of the 2015 2nd-rounder is cool too.
Joining those guys is--what's this? A redemption? Interesting. It's from 2007 Playoff Contenders and autographed Rookie Ticket #106 is Alan Br--
ALAN BRANCH KILLS QBs
Uh, I believe that's "Super Bowl champion Alan Branch Kills QBs", friend. Your friendly (except to QBs) neighborhood NT had a half-sack and recovered a big fumble for the Pats on Sunday while earning his place in NFL history.
This redemption is an interesting one for two reasons; first, Branch never signed his cards so these got returned with a "NO AUTOGRAPH" stamp, like so: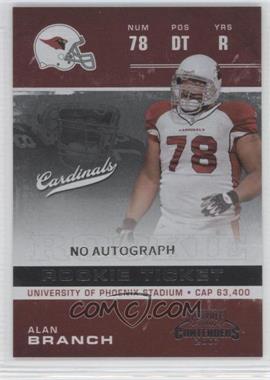 and a replacement. And second, I'm aware of that because way, way back, like almost 10 years ago, I bought a redemption card just like this one and tried to redeem it. So I'm really curious to see what happens when I send this card in; will Panini honor it? And if so, what will I get? Stay tuned to find out!
Finally, it's hockey time!
More like Hockey Mikes time with more than half of the cards representing Cammalleri and Comrie, including that
sweet
Invincible card. Also in the shot are a pair of Jack Johnsons, fellow D-man Jon Merrill, and sharer of Doug's 2/14 birthday Eric Nystrom, a guy I saw a ton of during my season ticket days. His ability to pull Wolverines from Dollar Store packs and case breaks is unparalleled.
Case in point: this stunning 2012-13 Dominion Patches Autographs patch auto (#52/60) of Bork himself, 2015-16 Stanley Cup-winner Carl Hagelin. One Michigan alum patch/auto is great but a pair is just crazy. I do believe this card, my eighth of the Swede, is my new favorite!
Doug, thanks again for a crazy (or would you be more comfortable with loonie?) good package, not to mention the second one I need to post while I try to figure out what to send back your way. In the meantime, happy one week until your birthday!