It's a great day to be a Michigan Wolverine. Not that there's such a thing as a bad day. Sure, one or more of the sports teams can lose, but it's still wonderful to be associated with the finest university I've ever known.
But today's a
particularly
good day to be a Michigan Wolverine. First, earlier this afternoon, judge Richard Berman ended NFL commish Roger Goodell's incompetent witch hunt against legendary QB and non-cheater Tom Brady. It sounds like it had something to do with the investigators' complete lack of evidence, ignorance of the ideal gas law, and self-drawn conclusion methodology. Make no mistake: Tom Brady was not vindicated because he did nothing wrong in the first place. His spot in football lore remains assured, and the fans get the best possible scenario at this point: one of the league's top players and teams can focus on defending their title, nobody has to read about "deflategate" anymore, and almost best of all, Goodell was made to look like the ineffectual buffoon he is--a guy whose unilateral power has led to a circus of hilariously stupid suspensions.
Goodell may have egg on his face (and may suspend the person that put it there for six games while ignoring another domestic violence offender), but happily for Michigan and Patriots fans, Brady will be back a week from now doing what he does best.
Oh yeah, and one other reason today is a good day: MICHIGAN FOOTBALL IS BACK! It's been a long--but very positive!--offseason for the maize and blue, with the biggest story being the return of former QB Jim Harbaugh as head coach. The khaki-uniformed leader immediately brought with him a sense that the program will return to its previous standards, plus coaching upgrades in nearly every area (11 men on the field for special teams? What's this sorcery?!).
Don't worry, I'm well aware that the return of Harbaugh alone won't spell immediate Big Ten or national championship contention. But this is bigger than that; simply by doing what he's done at his previous stops, Jim can help his namesake AD Hackett restore the culture that was so foolishly damaged and squandered thanks to Bill Martin's incompetent coaching search and Dave Brandon's...uh...everything, really. People are excited again even if expectations are high because there's a reason to be hopeful again, this time for real. And they're no longer being treated as faceless consumers who don't know what's best for themselves. So we've got that goin' for us.
As a weird artifact of the previous regime, Michigan has a return trip to Utah after last season's opening game loss to the Utes at home. That's not the weird part--what's strange is that the game is tonight, as in
Thursday
night
. There's something you don't see too often with Michigan Football, but then again, up until the last few years we weren't even playing home night games! Hey, I won't complain since it's two fewer days I had to wait for the season to start.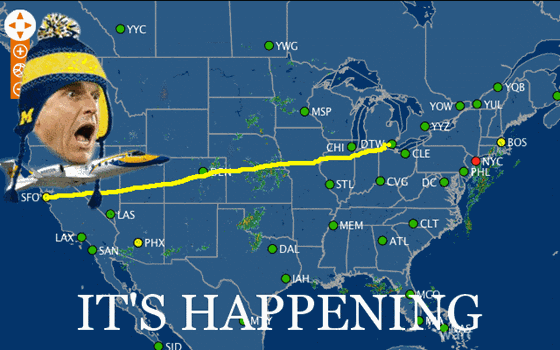 The transition for Harbaugh may take a bit as he works his players in and establishes his system, but I think before very long Michigan fans will once again feel like they did in the 90s when the team was feared and contended every year. I have no idea what to expect tonight, but win or loss, I'm happy for college football to be back, and for Michigan to be back along with it!