I have a ton of stuff to scan and post, including purchases from COMC, eBay, Justcommons, and Sportlots, plus trades aplenty. So naturally on Sunday I did what anyone else in my situation would do--I headed down to a card show to buy more stuff that I'd have to scan and post!
This wasn't my new haunt in Taylor, Michigan, but was instead at a small VFW hall in nearby Brighton, which is about 20 minutes north of me. I often enjoy smaller shows that don't charge admission, and this one turned out to be pretty useful for me because there was so much stuff with local appeal available. I spent a reasonable $40 on just a few trade bait cards plus what you see below:
First up is a group of six cards I grabbed for a quarter each. These are from TK Legacy Michigan's 2005 Multisport set, and you can see that three sports are indeed represented here. Cazzie's had his name called a few times before, and Elliott is among my autographs from the football-focused set. Berenson was the real draw for me as this goes into
his PC
, and I'm actually just short one autograph of his from this product. Matchefts and Debol are guys that haven't gotten a ton of love around here because they don't have much in the way of cards, but they're certainly a part of Michigan's storied hockey history. Finally, legendary Michigan broadcaster is represented...as a track star? Cool!
2005 TK Legacy Michigan Program Covers (#PC16) (#32/250)
From the same manufacturer's football set comes my first of the series of Program Covers cards that highlight...well, program covers from Michigan games. To prove that they weren't cherry-picked, this one, representing Michigan's 1936 matchup will Illinois, was a loss--actually the Wolverines' third straight to the Illini. The back tells you a bit about the game and then each card is hand-numbered (the numerator part, at least) out of 250. I hope to find more of these sometime.
Barry Larkin 1994 Leaf MVP Contenders
Barry Larkin 1994 Select Skills
It took me looking through a few sellers' cards until I found this pair of Larkin inserts from 1994, but it was worth it in the end, which I'll get to in a second. The former is a contest/redemption card of sorts--if Larkin (or another pictured player) won his league's MVP award, you would mail this card in (plus a small fee, of course) to receive a numbered 5x7 of Frank Thomas, which was a pretty good prize at the time. Plus you'd be entered in a drawing for one of 5000 Gold version complete sets.
The latter is from Score's '94 Select product and, as its name would suggest, highlights specific skills. Barry wins for "best hit-and-run" and is honored for that on this foil rainbow card. The back doesn't really say why he's great at the skill but instead briefly lauds his all-around game.
Two new Larkins might not seem like something to celebrate until you add them to the 248 others I had to reach a fun milestone of
250 different cards of Barry
! The HOF SS continues to rule over the rest of my PCs which is only natural since he appears on about a billion cards.
Hal Morris 1996 Score Dugout Collection Artist's Proof
My other baseball pickup on the day was this cool Artist's Proof (make that
Dugout Collection
Artist's Proof) of Hal Morris from 1996 Score. It's practically identical to the copper Dugout Collection parallel of this fantastic horizontal photo except for the "Artist's Proof" stamp in the lower-right corner, which makes it rarer, naturally. I'm closing in on another milestone here as
Hal sits at 97 total cards
.
And now for the "wow Wolverines." Towards the end of the show I still hadn't spent much when I came across a table literally covered with Michigan Football hits, some on display and others in boxes. If I ever hit the lottery I'm cleaning this guy out since he pretty much had about 100 different cards I was drooling over. In some ways the prices felt a bit high to me, but then again I was able to snag a pair and make a deal for a lower amount, so I think it worked out. Plus I was inspired by the recently-ended Parks and Recreation and decided to live by one of its best concepts: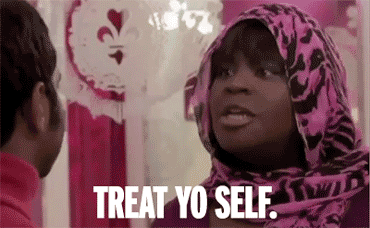 You're right, Donna and Tom, I'm gonna TREAT MA SELF!
Anthony Carter 2011 Exquisite Collection Dimensions auto
You see this card? It's hard to tell from an over-the-top scan, but it's a shadowbox-style design and is literally as thick as every other card posted today put together, but only when I include the one you'll see in a second. I've been wanting one of these for a while and happily made a deal for it. What's going on here is a tale of layers; The top one is clear except for the image on the right of AC, plus the foil of the UD logo, set name, Carter's name, and the team name. All of that is on a bordered thi plastic window. The very bottom has the shadowbox image of Carter in something like sepia with a wavy pattern around it (which didn't scan well, I guess). Finally, a clear plastic display stand-kind of thing is affixed to the bottom and that part contains the signature, completing the 3D look of the piece. I have some very nice cards of AC, but this one pretty much has to be my favorite at this point! The Michigan uni-ness certainly helps, and I happily paired it up with...
Denard Robinson 2013 Upper Deck Quantum Signature Patches patch auto (#085/265)
...a card literally half its thickness but 100% in tune with the "stacking things up" theme. This super shiny Shoelace from 2013 UD Quantum is basically a large patch placed beneath a clear plastic window that's then signed by the player. It makes for a great look along with UD's best-in-the-business photography, and many of the copies I've seen available have patches that look at least as good as this, if not better. All of that results in a high-end-feeling card that's not actually as expensive as it looks!
I'm happy to have landed all the stuff above, crossed another milestone, and maybe found a second card show to hit sometimes, so I'd say I had a pretty nice Sunday. Now maybe I can finally get back to covering everything else that's on the back burner...