Michigan hosts 4-1 Penn State tonight at 7 pm Under the Lights© as it looks to salvage something out of this disastrous season. My favorite team is 2-4, which has really happened very little in my lifetime much less the history of the program. Still, sometimes things have to get worse before they get better. And at least we're toeing the Big Ten company line of being a laughingstock of a conference for yet another year!
Despite a surprisingly bad team, a clueless coach, and the worst athletic director the school has ever employed, I'll never cease to be a fan of the Maize & Blue. Also, anything can happen when Michigan plays the Nittany Lions, namely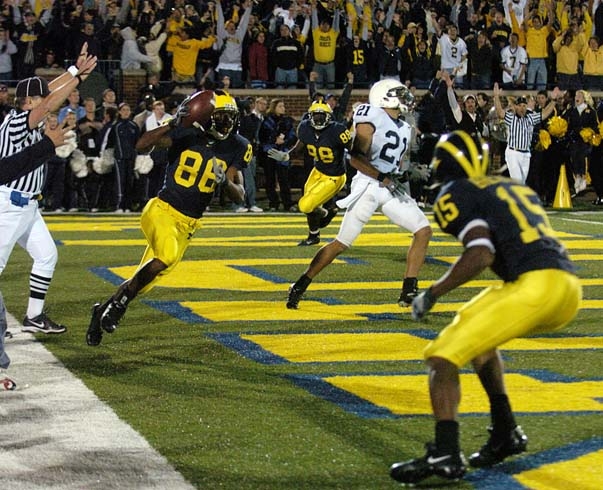 Mario Manningham in 2005
Alan Branch in 2006 (YAY! "Alan Branch kills QBs" tag!!)
Win or lose, I support my Wolverines, and apparently a ton of former players will be doing just that this weekend, hopefully providing a huge boost to a team that could use it. There's never a better time to turn things around than right now.