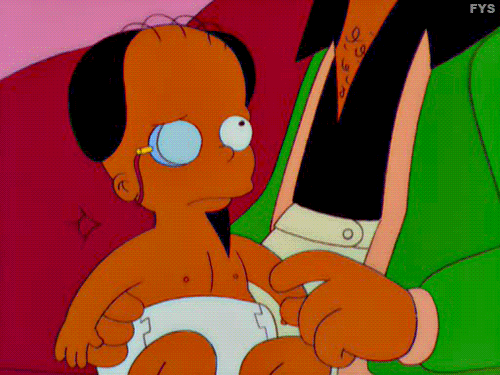 (If you get the connection between the title and this .gif, a million made-up points to you!)
Here's the rest of my recent COMC pickups, but worry not as I'll have more heading my way before much longer!
Jake Fox 2009 Upper Deck Signature Stars auto
I waited a long, long time for this
Fox
auto to become available anywhere I looked, and then suddenly someone on COMC had it for a great price! I was thrilled to add it, but I'm not quite so excited now, because, unbeknownst to me it got caught in the hinge of the lid of my scanner as I was scanning other cards. Now the only copy I've ever seen of this autograph has a huge crease! Oh well, life goes on--I can still knock the card off my wantlist and maybe someday I'll find another one. I'm nearly done with the former Cub's collection at
16/19 cards
!
Chris Getz 2014 Topps Toys R Us Purple Border
I'm sure I'll be working on the 2014 flagship rainbows of a couple of my guys for a bit, but fortunately I was able to score this Purple
Getz
on the cheap to get him one card closer to that goal; right now I have his base plus five parallels. At
71/106 cards
I'm essential 2/3 done with Chris' collection to-date, which isn't bad at all.
Scott Kamieniecki 1993 Yankees Stadium Club
I didn't initially have this
Kamieniecki
on my checklist as it didn't show up when I searched for his cards on Beckett, but once I saw it I considered it a perfectly reasonable card to include in his collection. It's definitely very different from
his "regular" Stadium Club issue from the same year
thanks to using its own design and another photo, but it still looks great. Then again, it's Stadium Club, so who's surprised? I'm getting down to the tough finds for Scott as
I now own 82 of his 90 cards
.
Michael O'Neill 2013 Panini Prizm Perennial Draft Picks Prospect Signatures Prizms auto
Yankees OF farmhand
O'Neill
sure does have a nice signature, doesn't he? I've definitely come to expect good things from his autograph as this is now my fifth of a guy I hope turns into a big star, even if it makes him tougher to collect. That's already happening anyway thanks to the release of 2014 Bowman Chrome, which includes a crazy 30 new cards of Michael, many of them autographed and/or numbered under 50 copies. This is now
my 11th card of his current total of 70
, and I hope both of those numbers increase!
J.J. Putz 2005 Donruss Champions Impressions auto
J.J. Putz 2005 Playoff Prestige Signature Xtra Bases Purple auto (#08/50)
It's no secret I have a long way to go when it comes to my
Putz
collection--his total run is just a bit lower than Rich Hill's and I'm at around 55% right now. But every little bit counts, and it's even better when I'm able to add two of his autos at once for relatively cheap. Both hail from 2005 Donruss/Panini products, and while I have a good number of J.J.'s Champions cards, I'm not even close on his bevy of issues from Prestige (though both my cards from the latter are signed). I'll just continue to chip away slowly at his cards while I can, and for now I own
179/326
.
Clayton Richard 2011 Topps Heritage SP
Last up today is pitcher
Clayton Richard
. While I'm past the 70% mark for his run, I'm still sometimes able to find new stuff of his on COMC. Case in point is this 2011 Heritage SP. I'm not really sure why they short-printed Richard that year, though
his 14-9 2010 campaign
was essentially his career year. This card from the set honoring the '62 design looks good and I'm happy to make it card #
107/150
in his collection.
I'll probably have more COMC stuff to show off in a few weeks but for now I'll get back to trade posts plus a few things from eBay and Sportlots.