Jeff here, it's been awhile but I'm trying to get back into blogging. I'm still not buying a lot of cards but I did get some from Dennis (whom you should know). So let's get to it.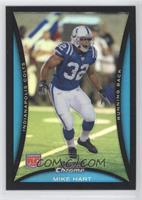 Mike Hart – 2008 Bowman Chrome Refractor #BC80
This is a beauty. It goes straight to the Mike Hart collection. A rookie and a refractor. For those that don't know, Mike played at Michigan and for the Indianapolis Colts whom are both my favorite teams. Mike was a machine at Michigan who rarely fumbled. I want to say off the top of my head he had 3 total fumbles his entire collegiate career and that's for the player who holds the career rushing yards at Michigan.
Terrance Taylor – 2009 Upper Deck SP Authentic rookie authentics signature autographed #'d 70/999
The photo came from Ebay as COMC didn't have it listed, that's why the serial number is different. This would be another player who came from Michigan and went on to play with the Colts. This is a nice on card auto and I like the Colts logo prominently displayed.
I should be back tomorrow with some pics and photos from my Michigan Tumblr – MSO – Wolverines. Hopefully, I'm back into the swing of things and will get some stuff posted.
Big thanks to Dennis for the surprise package.