Coming off last week's thumping of Central Michigan, the Wolverines will be Under the Lights in prime time, facing (soon-to-be former) rival Notre Dame (#14) at 8.
This will be the last Irish-Wolverines tilt in Ann Arbor for the foreseeable future due to Notre Dame's commitment to the ACC caused some scheduling changes. Although they'll continue to play Big Ten
powerhouses
competitors
participants Michigan State and Purdue, the school has unquestionably chickened out of one of their best historical rivalries, then laughably tried to play it off as both no big deal and a necessary evil. Irish coach
Violet Beauregarde
Brian Kelly then dipped into his years of experience at the school and downplayed the series, which was probably advisable since Michigan leads 23-16-1 going into tonight. Then again, perhaps I red--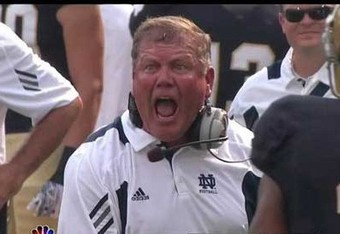 --er, read too much into his comments. But we ARE talking about a school who celebrates one of the game's most overrated, blatant self-promoters (who was OFFSIDE, by the way!).
GO FIGTHING IRISH! Wait...
Meanwhile, Michigan hopes to return to the success it had the last time these teams met in Ann Arbor at night, way back in 2011. For the third straight year the game shaped up to be a nail-biter, but an amazing Wolverines comeback looked like it would sadly fall short. Then this happened:
"Oh, WIDE OPEN!"
And then THIS happened:
Notre Dame's radio guys were in such disbelief that they resorted to wishful thinking on the game-winning TD; Hawk Harrelson thought they were embarrassing, it was so bad.
Anyway, last year was a different story, with the Irish on their way to an extremely lucky 12-0 regular season record before face-planting against Alabama in the title game. That game, in South Bend, wasn't pretty for either team, with a final score of 13-6 in favor of Notre Dame, and one offensive TD scored all game. Denard Robinson was responsible for four of Michigan's five interceptions, and six turnovers overall.
The Irish running game should look like this tonight
Tonight's matchup will likely be yet another decided by one score. Michigan RS junior do-everything QB Devin Gardner will wear a jersey honoring this guy,
who was also known to be a pretty good athlete in his day. With a very talented team, an in-control coach and a great deal of motivation, Michigan will be looking to affirm Notre Dame's decision to run away from a top opponent yet again. Tune in at 8 EST for what should be another classic. And as Bo would say, TO HELL WITH NOTRE DAME.
LET'S GO BLUE!