Well, the 2016 NFL draft is in the books, and what better way to celebrate than with some cards I picked up at a show almost four weeks ago? But before I get to those, let's have a quick look at the
Wolverines that were selected this year
:
Graham Glasgow, C: Detroit Lions, Round 3, Pick 33 (95th overall)
The former walk-on (from a family of excellent walk-ons!) gets to stay home. Hopefully his drinking issues are behind him, because he might get a shot on the Lions' O-Line very soon.
Willie Henry, DL: Baltimore Ravens, Round 4, Pick 34 (132nd overall)
The beastly DT left a year early, and somewhat unfortunately for him he didn't get picked very high, but it's got to be very exciting for him to be leaving on Harbaugh only to be coached by another!
Jake Rudock, QB: Detroit Lions, Round 6, Pick 16 (191st overall)
The Iowa transfer was a wonderful story to watch this year as new coach Jim Harbaugh got every ounce of production possible out of a guy who was an entirely different QB by the end of a very successful 2016. The Lions drafted two Wolverines this year and are clearly trying to make me stop hating them. Hey, dump Stafford and we'll talk!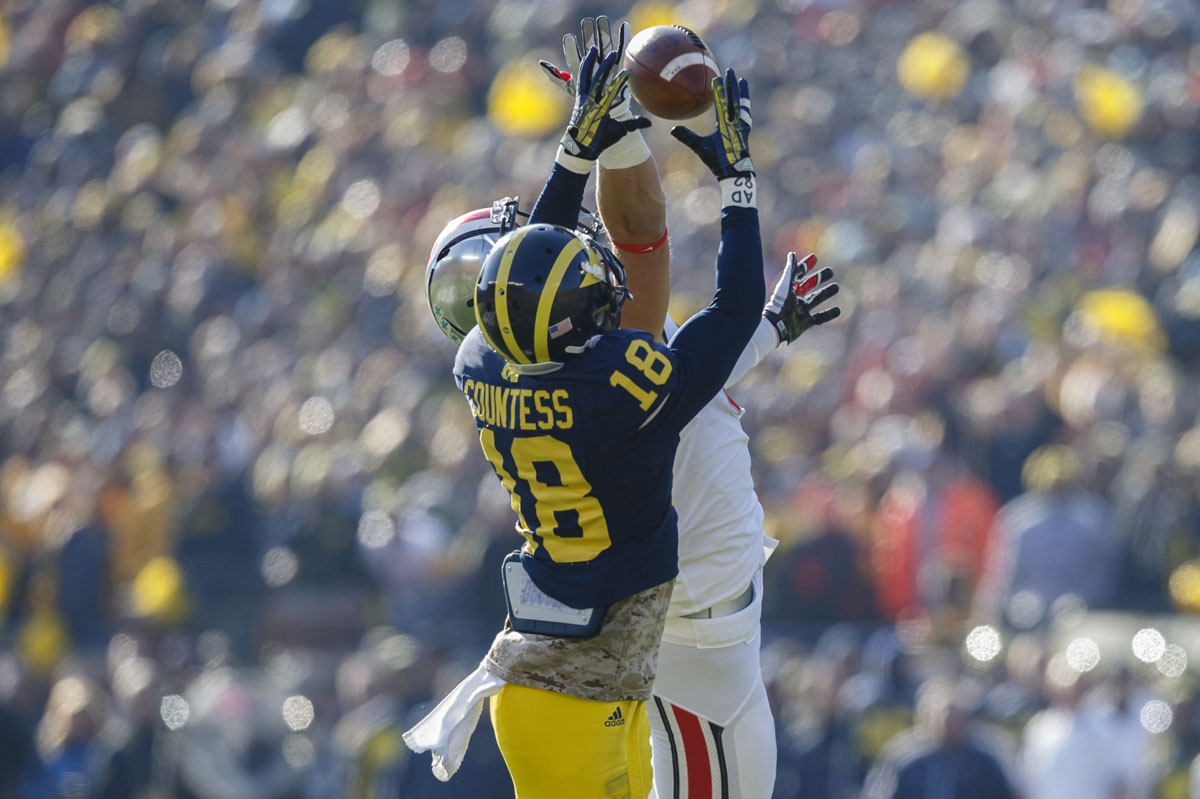 Blake Countess, DB: Philadelphia Eagles, Round 6, Pick 21 (196th overall)
A former top recruit, Countess played for Michigan from 2011-2014, then transferred to Auburn last year. Since most of his playing time was with the Wolverines, of course I'm counting him here!
A few other players went undrafted but are possible-to-likely UDFA signings just waiting to happen. Those players include Joe Bolden (LB), Sione Houma (FB), Desmond Morgan (LB), and Mario Ojemudia (LB).
Good luck to all the new Wolverines in the NFL! Hopefully many of them will appear on some cards soon--don't let me down, Panini!
Ok, on to my show haul from a few weeks ago. I had another trip where I didn't buy much, and besides searching for a bit of trade bait, I spent most of my time flipping through boxes with my favorite vintage dealer (who's a Buckeye fan, but is still an OK guy). For something like $10 I grabbed three very vintage-y football cards:
Roger Zatkoff 1955 Bowman RC
Zatkoff
is yet another native of the state to stay local as he hails from Michigan's Polish mecca, Hamtramck. He was a Wolverine from 1949-52, playing LB for legendary coach Bennie Oosterbaan, and during his first varsity season, 1950, Michigan won the Big Ten and the Rose Bowl.
Green Bay took him in the fifth round of 1953, and Roger would spend
his first four seasons with the Pack
, making the Pro Bowl three straight seasons after his rookie campaign. When Green Bay tried to trade him in 1957 he was able to convince the franchise to send him to Detroit, and he played his final two seasons as a Lion, including as a member of the 1957 NFL champs (a.k.a. the last time the Lions won anything worth a damn). Zatkoff's success inspired Michigan to name its yearly award for best LB after him.
Here he is on a fantastic Bowman design from way back in 1955. I'll have another player from this set to show off soon!
Tom Keating 1965 Topps RC
Keating
was a DT out of Chicago who played for Bump Elliott's 1961-63 squads, which unfortunately went 11-14-2. In 1964 he was chosen in both drafts, by the Vikings (NFL, round 4) and Bills (AFL, round 5).
He went on to appear in both leagues
, with the Bills, Raiders (AFL and NFL versions), Steelers (NFL) and Chiefs (NFL) between 1964 and 1975, and made the Pro Bowl in '66 and '67. He also had a brother,
Bill
, that joined him in the college and pros.
Tom's rookie card comes out of
1965 Topps
, a.k.a. the "Tall Boys set", with its nickname owing to the unorthodox dimensions. He's the only Wolverine with a rookie in this set, but I'll have to see if any other Michigan guys are included.
Ron Kramer 1967 Philadelphia
I couldn't remember if I had this cool vintage Kramer card, so I picked it up, essentially as a throw-in in the deal. As it turns out
I already did have one thanks to Doug
(who else?), so now I have two, including this slightly upgraded version.
So for a mere $10, there's three fun additions for my
football rookies
and
vintage
collections! And now I can maybe finally get back to putting up trade posts that are long overdue.