My newly started Denard Robinson collection is growing more rapid then I thought it would. I started it with only 1 card, today I'm adding quite a few. These won't be the awesome autos that you see from Dennis, remember, I'm the cheap guy. Let's start with the ebay purchases.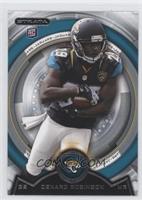 2013 Topps Strata
I grabbed this one for my max bid of $.54. I'm not sure if I like the design or not, I think it's cool but it's kind of busy. COMC has it listed as retail base and they have another one listed as base so apparently I'm going to have to pay more attention and not dismiss the Strata that I run across on Ebay.
2013 Topps Magic
I picked up this one for $.38. I always liked the Topps Magic that Dennis shows here but that's mainly because they were in Michigan uniforms. I guess that's the bad part about collecting pro players now. It's still a decent design so I guess I can't complain.
2013 Panini Prizm HRX Rookies 2013 Sage HIT Next Level 2013 Sage HIT 2013 Sage HIT red
I picked up all 4 of these in a lot. I grabbed up all 4 cards for $1.25, which is equivalent to approximately $.32 each. Not a bad pickup if I have to say so myself. The first 2 Sage HIT card pics came from Amazon while the last one I had to screencap from an ebay image because I couldn't find a picture of the red version anywhere.
Next, I got some Denard Robinson's from my cousin whom I refer to as "Sluggo" on My Sports Obsession. He's a Notre Dame fan so I'm sure it pains him to even touch the cards of the guy who torched them for a couple of years.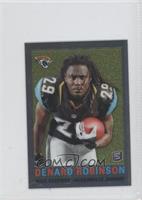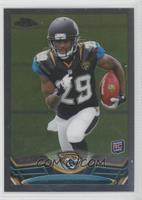 2013 Leaf Draft 2013 Topps Chrome 1959 2013 Topps Chrome
So just like that, my Denard Robinson collection went from 1 to 10. Hopefully it will continue to grow. To see what else he sent me for my other collections, check that post out over at My Sports Obsession.